China Commercial Sugar successfully completed the 2021 fresh milk import task
Release Date:2021-12-25
By the end of December 2021, China Sugar Co., LTD. (hereinafter referred to as our company) successfully completed the import of 5698800 liters of Polish fresh milk.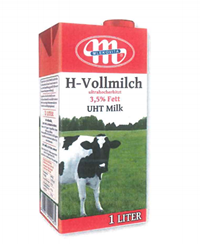 In 2021, in the face of the global epidemic, our import and sales team overcame such adverse factors as unstable shipping schedule, high transportation and customs clearance costs, unstable customs clearance time and so on, steadily promoted the orderly development of this new business, strictly controlled risks, and successfully completed the import task.
The cooperative manufacturer of our company is Spo łdzielnia Mleczarska MLEKOVITA, one of the largest dairy products enterprises in Poland. The brand is known for its good quality and low price in the domestic market, and has a good performance in the bakery industry and retail channels.
In 2022, we will make persistent efforts to give full play to our advantages and continue to supply safe, high-quality and assured imported products to the domestic market. All staff of the company will continue to do a good job in the development and promotion of new business with more full enthusiasm.
China Sugar Industry